My house -- a view of the front. The Boston Ivy has just fully leafed out.
The Boston Ivy growing over the walls of my current home was one of the first things that caught my eye and drew me to it. I think there is something romantic and a bit nostalgic about a cottage being grown over with ivy, and large stately homes look even grander with the help of it. At the same time, ivy seems to also soften large expanses of hard surfaces helping them to blend with the landscape. Like all aesthetic considerations, a love for ivy climbing the walls is purely subjective, and anyone who has grown any variety of ivy over a structure may have good reason to pause before considering to do it again. However, I am of a contingent of garden lovers who love ivy so much that we are quick to point out all its beauties, overlook its defects and not mind the consideration and maintenance that comes with growing it. To me it's all worth it!
Boston Ivy growing over the garage walls of my house adds color and softness. The combination of ivy next to copper rain gutters is a nice mix of texture and color too. (I've just begun the spring gardening, and as you can see there's plenty left to be done. One of the arborvitae's has had a lot of winter damage and may need to be replaced, the other needs a serious haircut.)
Ivy has gotten a bad rap for being destructive. Some varieties like common ivy (Hedera helix) have been thought to cause destruction by the vine's aerial roots that cling to the surface of the structure, some schools of thought suggesting that it can take root in the crevices of compromised masonry. Boston Ivy has been thought to be less destructive as it primarily clings to structures through sucker-like tendrils, shown below, although there are many people who have strongly recommended against growing even this type of ivy on buildings, contending that the tendrils may hold moisture against the structure and cause decay. I have heard others point out the unlikelihood of ivy having destructive affects considering the great length of time it has grown on structures in England apparently without causing significant damage. But until recently that has all been speculative and anecdotal.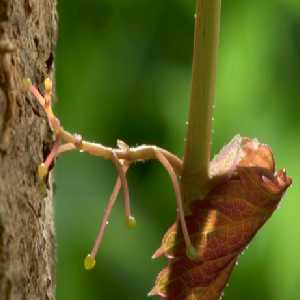 Boston Ivy attaches itself by sucker-like tendrils. Even when the ivy is removed, the tendrils usually remain stuck to the structure on which the ivy was growing and must be removed if the surface is a structure that needs treatment such as paint. Photo via BBC.
A research project completed recently by Oxford University's School of Geography and the Environment and funded by
English Heritage
, the English government's statutory adviser on the historic environment, will certainly weigh in on the conversation. The aim of the study was primarily to determine whether common ivy
(Hedera helix)
as well as other types of ivy acted as an agent of deterioration or protection to the stone material of walls at test sites in various regions throughout England. Researchers found that contrary to common thought, ivy appears to be playing a protective role, acting as a temperature and moisture regulator and that it shields walls from pollutants that lead to stone decay. You can read more about the study
HERE
and
HERE.
That is certainly good news to people like me who love ivy for its beauty and for it numerous practical uses. That being said, growing ivy on a building requires constant attention to its upkeep. Left unchecked, it can show up in unexpected places seemingly overnight. Care must be taken to keep it from growing under roof shingles, into doorway and window openings and over windows, into exterior vents and from clogging rain gutters and downspouts. Additionally, if it is growing within close proximity to neighbors, you must watch for runners that can grow on top of and under the ground onto a neighbor's property. If the ivy is growing on a surface that will need to be painted or otherwise treated, all of the vine will, of course, have to be removed before the job can be done along with the sucker-like tendrils that tend to stick to the surface even once the vine has been removed.
These tendrils of Boston Ivy snuck up on me. Before I trimmed them back, they were growing through a seldom-used exterior doorway leading into the garage after a feverish growth spurt aided by very warm spring temperatures.
Before I scare you away from this beautiful plant forever, here's the brighter side:
Trimming is only required a few times a year. Any vines that were not trimmed back far enough in the fall to allow for the new spring growth will have to be trimmed in spring. Sometimes I have to trim in late summer too because I like the vines to grow within close proximity to windows and roofline. In the fall after the leaves have fallen, it's easy to trim the bare vines into a nice shape to be ready for looking great again in the spring.
It's beauty has many aspects:
In the fall, Boston Ivy is painted with gorgeous shades of red, yellow and orange and sometimes purple.
The Old French Farmhouse at Le Lieu Besnard in Normandy, France is covered in Boston Ivy in all the glorious colors of fall. Owners Yula and Brian Lawrence graciously granted me permission to use this photo of their lovely B&B in my blog header. You can visit them online HERE.
Ivy softens hard surfaces that could look monotone in their abundance. It gives birds a little spot to stop and rest. Small, inconspicuous black berries form on the vine during the growing season and last until the birds have pecked them all off in the winter.
In courtyards and other small garden areas, growing ivy and other vines up the walls extends the garden and helps create a sense of quiet and enclosure.
The soft drape of ivy in Penelope Bianchi's loggia (combined with everything else that is beyond wonderful here) creates a romantic mood. TG Interiors has just done a beautiful, must-see post on Ms. Bianchi's amazing style.
Boston Ivy blends the stone garden wall, at right, with the rest of the garden.
Getting Boston Ivy to grow couldn't be easier. It will grow in full sun or shade and everywhere in between. It tolerates all sorts of soils. Mine is thriving in heavy black clay.
A California home currently for sale through Sotheby's clad in Boston Ivy.
From the ever-design-clever Martha Stewart: a patio screen created by copper gutters planted with ivy. Details and instructions HERE.
Enjoy the rest of your week! I'll be busy trimming shrubs and painting those shutters a more "perfect" shade of gray. Talk to you about that soon!
xo Keri