Hi friends! Thank you for taking the time to wish me a speedy recovery & for the great get-well tips that you sent the past couple of weeks. It turned out to be a yucky bout with asthma, but it seems to be under control now and I'm feeling lots better, just having to take it easy at times.
I guess I was so busy taking my own advice about
working hard
that I hardly took time to slow down to smell the flowers I was planting. But while I've been forced to cool my heels the past few weeks, I got a long-awaited shipment from
Brushwood Nursery
: two baby Eden roses that I ordered while armchair gardening during the winter.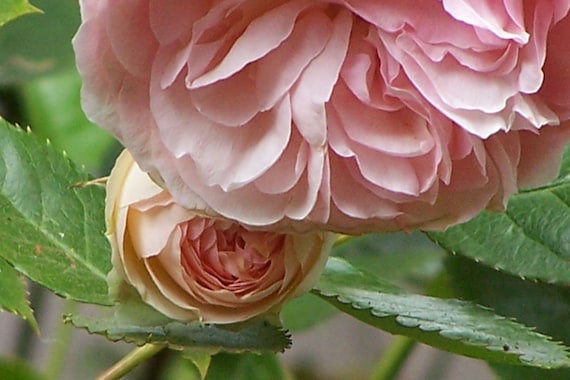 Eden, climbing the walls with gently nodding stems "looking" downward. Photo: White Flower Farm
Eden Climbing Rose, also known as 'Pierre de Ronsard' after the French poet, is a modern, disease-resistant, continually-blooming, strong-growing rose with an old-fashioned look. It produces 4-1/2 inch fully cupped blooms of around 100 petals of cream, pink and shades of apple green and yellow. The flower heads are heavy and nod downward attractively, giving you a full view of their beautiful faces.
Photo from
Roses in Gardens, who has done a beautiful and informative post on Eden roses, showing Eden's many shades and its beauty as a cut bouquet.
It has a light scent, something that could be considered a down-side to its many attributes, but overall, Eden can add tremendous interest to gardens large or small with its showy, gorgeous blooms, climbing habit and distinct nod toward romanticism.
A brilliant example of the intense beauty of Eden's varying shades, from a lush cream to a deep pink in the inner petals.
Showing it's masses of petals and beautifully cupped shape.
Making beautiful things grow is an intoxicating addiction, I think. But a good one. Maybe it's because plants and planting are something of a metaphor for life. You work, you watch, you hope that it will all come out right. Then one day, when you're least expecting it, you see your efforts blossom into something that stops cars on the street or is quietly noticed with a smile by the aging neighbor walking past. And when those efforts don't yield pleasing results, you just get a shovel, dig 'em up & patiently (or in my case, sometimes not so patiently) try again.
Eden, beautifully covering a pergola.
Whatever you're planting, I cross my muddy little fingers for you and hope you get the results you want!
xo Keri